WHAT LITTLE LANDSCAPE TREASURES ARE HIDDEN BY YOU?
Posted on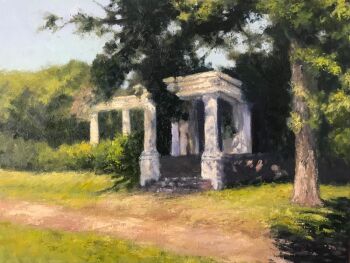 'Abandoned Orangery', 30cm x 40cm, Oil on Canvas
I'd driven past this location many times & always thought that I should go & investigate it. Eventually I did & I came across this amazing derelict, abandoned orangery.
Not only was it the sunshine hitting the weather-worn paint that attracted me to this view but by the way nature was taking over this once wonderful building.
The bright sunshine formed extremely dark shadows which produced strong light & dark colour variations of the surrounding trees & bushes, as well as the building.
Unfortunately, I didn't have my paints with me so I took a number of reference photos to work from. I think this will be the first painting of a new collection that I'll produce over the coming months, so keep an eye out.
In the meantime, if there's a little landscape gem that you'd like me to paint for you, please contact me.
If you'd like to join my email list, this will allow you to gain early access to view & buy any new paintings/collections 24 hours before it is open to the general public. Also members will be provided with discount codes, at certain times of the year (to use for a limited time), to use to buy paintings from my website.
… so if you'd like to gain access to any new paintings/collections & receive discount codes, please join my email list